Home page > Product & Price list > Labels & Stickers > Sticker > Breakable Sticker
Qty
Breakable Sticker Without Die Cut
1UP (90mm x 54mm)
2UP (108mm x 90mm)
3UP (90mm x 162mm)
4UP (108mm x 180mm)
S$
S$
S$
S$
50
10.9
14.2
17.6
20.7
100
14.2
21.1
28.4
34.5
200
20
34.2
51.8
61.4
300
28.4
51
75.2
90.8
400
36.9
67.8
98.7
109.2
500
45
84.8
123.7
127.6
1000
78.7
139.3
197.8
239
1500
112.3
193.7
272.2
350.4
2000
145.8
248.2
340.8
421.7
2500
179.7
308.1
409.5
525.4
3000
214.8
368.3
490.5
629.1
3500
252.6
424.3
575.2
727.7
4000
289.6
480.2
659.8
826.4
4500
316.5
536
740.5
924.9
5000
343.3
591.9
821.1
1023.6
5500
370.2
647.9
901.9
1122.3
6000
397
703.7
982.5
1221
6500
430.1
759.6
1063.3
1319.5
7000
463.3
815.6
1143.9
1418.2
7500
487.2
871.4
1224.7
1524.1
8000
511
927.3
1305.3
1630
8500
547.3
983.1
1386
1735.9
9000
583.8
1039.1
1466.7
1841.7
9500
619.6
1095
1547.4
1947.6
10000
655.5
1150.9
1628
2053.5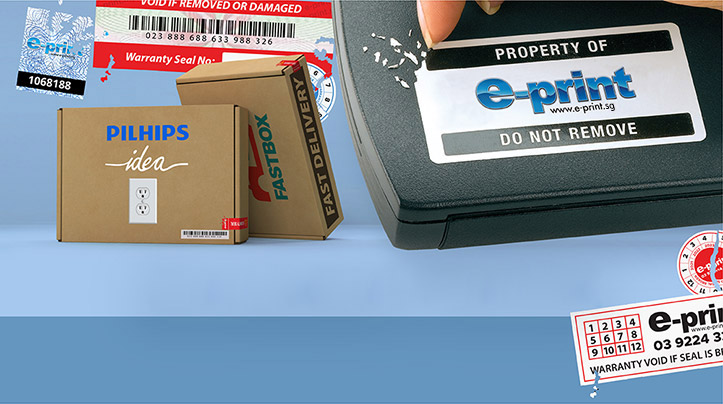 Breakable Sticker
Breakable sticker, which also well-known as Destructive &
Warranty Sticker, equipped with a good security feature.
These labels are meant to safeguard your brand against
tampering and counterfeiting.
Breaks apart into small pieces when
removal is attempted.

Come with a powerful adhesive that
sticks to most surfaces.

100% water resistance.

Wide variety of shapes and sizes.

Supply on sheets.