Home page > Product & Price list > Labels & Stickers > Die Cut Stickers > Synthetic Sticker With Die Cut
Qty
Synthetic Sticker With Die Cut
1UP (92mm x 54mm)
2UP (113mm x 92mm)
3UP (92mm x 172mm)
4UP (113mm x 189mm)
S$
S$
S$
S$
50
15.3
17.3
20
22.6
100
17.6
21.9
27.7
32.9
200
23
32.4
46.9
54.6
300
27.7
43
62.6
75.3
400
36
57.3
81.9
88.5
500
40.4
68
99.2
98.1
1000
58.6
95.2
138.1
169.5
1500
78.6
123.9
179.1
242.6
2000
98.6
152.9
214.4
275.5
2500
120.8
188.9
251.5
342.8
3000
144
225.3
300.9
410
3500
165.5
252.9
349.5
467.6
4000
186.3
280.5
398
525.2
4500
197
308.1
442.6
582.9
5000
207.6
335.8
487.3
640.7
5500
213
358.2
526.8
693.1
6000
218.4
380.7
566.3
745.7
6500
230.2
403.1
605.7
798.2
7000
241.9
425.5
645.1
850.6
7500
244.3
448
684.7
910.4
8000
246.7
470.3
724.1
970.2
8500
261.7
492.8
763.6
1029.9
9000
276.7
515.3
803
1089.7
9500
291.1
537.7
842.5
1149.4
10000
305.6
560.1
882
1209.1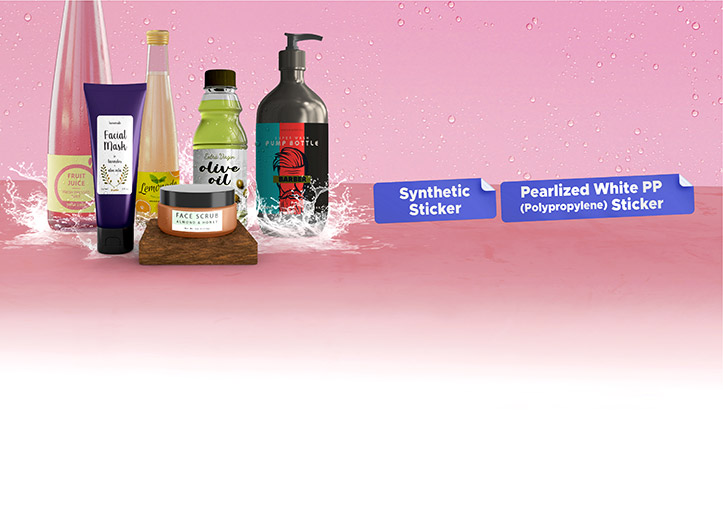 Water-Resistant Stickers
Strong & Durable Stickers for
Wet and Damp Conditions.
Print Water-resistant Stickers That Can Resist Moisture and
Withstand External Elements.
Create water-resistant labels that last while on display,
in a refrigerator, and upon washing.
Your product name or logo looks good as new even after being
exposed to water and moisture.
Synthetic Sticker Features:

Water Resistant, Weatherproof

Strong, Durability

Light Weight

Smooth Surface
Pearlized White PP (Polypropylene) Sticker Features:

Same as Synthetic Sticker, but the Pearlized White PP (Polypropylene) sticker is also known for its rich luminous effect. You may notice how the shimmer can show through the print in a subtle, elegant way.
Inspiration: