Home page > Product & Price list > Business Essentials > Ticket & Voucher > Loose Sheet Voucher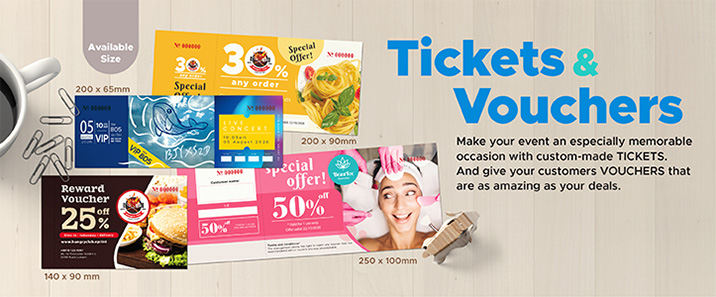 100gsm Simili

128gsm ArtPaper

260gsm Artcard
Qty
2 Numbering + 1 Preforation Line
1 Numbering Without Preforation Line
4c+0c
4c+4c
4c+0c
4c+4c
S$
S$
S$
S$
250
110.4
194.9
106.8
191.3
500
111
195.5
107.4
191.9
1000
117.1
201.6
113.5
198
1500
123.1
207.7
119.5
204.1
2000
129.8
214
126.2
210.4
2500
135.9
220.4
132.3
216.5
5000
167.7
252
163.8
248.4
10000
240.1
325.3
234.4
319.9
15000
323.6
421
316.4
413.5
20000
406.8
515
397.5
505.7
25000
505.3
633.6
492.4
620.4
50000
913.1
1087
889.1
1063
Qty
2 Numbering + 1 Preforation Line
1 Numbering Without Preforation Line
4c+0c
4c+4c
4c+0c
4c+4c
S$
S$
S$
S$
250
111.3
196.4
107.7
192.5
500
112.2
197
108.3
193.4
1000
118.6
203.7
114.7
199.8
1500
125.2
210.4
121.6
206.8
2000
131.9
216.7
128
213.1
2500
138.9
223.7
135
220.1
5000
172.5
257.4
168.6
253.8
10000
250
336.1
244.6
330.4
15000
339.2
436.9
331.7
429.4
20000
426.3
535.1
417
525.8
25000
529.2
657.9
516.4
645
50000
961.4
1135.8
937.4
1111.6
Qty
2 Numbering + 1 Preforation Line
1 Numbering Without Preforation Line
4c+0c
4c+4c
4c+0c
4c+4c
S$
S$
S$
S$
250
137.1
225.2
111.9
200
500
138.9
227
113.7
201.8
1000
147.3
235.8
122.2
210.6
1500
156.7
245.1
131.5
220
2000
165.5
253.6
140.3
228.4
2500
181.1
269
149.4
237.5
5000
241.5
329.6
196.5
284.6
10000
376.2
465.6
296.5
385.5
15000
522.1
623.1
407.2
508.6
20000
667.3
779.1
517.7
629.8
25000
827.8
959.7
641.7
773.6
50000
1546.2
1723.7
1184.1
1361.6
100gsm Simili

128gsm ArtPaper

260gsm Artcard
Qty
2 Numbering + 1 Preforation Line
1 Numbering Without Preforation Line
4c+0c
4c+4c
4c+0c
4c+4c
S$
S$
S$
S$
250
108
191.9
105.3
189.2
500
108.9
192.8
105.9
189.8
1000
115
198.9
112
195.9
1500
121
204.7
118
202
2000
127.4
211.3
124.7
208.6
2500
133.5
217.4
130.8
214.7
5000
168.3
249.3
163.8
246.6
10000
231.4
316.3
226.9
311.5
15000
303.8
389.3
296.6
382.4
20000
387.3
484.7
378
475.4
25000
470.2
578.7
458.5
567
50000
867.8
1018.3
844.5
995.2
Qty
2 Numbering + 1 Preforation Line
1 Numbering Without Preforation Line
4c+0c
4c+4c
4c+0c
4c+4c
S$
S$
S$
S$
250
108.9
193.1
105.9
190.4
500
109.5
194
106.8
191.3
1000
116.2
200.4
113.2
197.7
1500
122.8
207.4
120.1
204.4
2000
129.5
213.7
126.5
211
2500
136.2
220.7
133.5
217.7
5000
172.8
254.4
168.3
251.4
10000
241
326.2
236.2
321.7
15000
317.9
404.2
311
397.3
20000
405.6
503.6
396.3
494.3
25000
492.4
601.5
480.7
590.1
50000
912.2
1063.6
889.1
1040.5
Qty
2 Numbering + 1 Preforation Line
1 Numbering Without Preforation Line
4c+0c
4c+4c
4c+0c
4c+4c
S$
S$
S$
S$
250
133.5
220.4
109.5
196.1
500
135.3
222.2
111.3
197.9
1000
144.3
231
120.1
207
1500
153.4
240
129.4
215.8
2000
162.5
249.1
138.2
224.8
2500
177.8
264.5
147
233.6
5000
240.3
324.8
194.4
281
10000
363.6
452.4
284.8
373.5
15000
495.4
585
381.5
471.1
20000
638.8
740.4
489.5
591.2
25000
781.4
894.1
596.7
709.4
50000
1477.9
1632.6
1116.6
1271.3
100gsm Simili

128gsm ArtPaper

260gsm Artcard
Qty
2 Numbering + 1 Preforation Line
1 Numbering Without Preforation Line
4c+0c
4c+4c
4c+0c
4c+4c
S$
S$
S$
S$
250
111.6
190.4
107.7
188.6
500
112.2
197.3
108.6
193.7
1000
118.9
203.7
115
200.1
1500
125.8
211
121.9
207.1
2000
132.2
217.3
128.6
213.4
2500
139.2
224.3
135.6
220.7
5000
173.4
258.6
169.8
255
10000
251.2
336.9
245.5
331.6
15000
340.1
438.1
332.9
430.6
20000
428.4
537.5
419.1
528.2
25000
531.6
660.6
518.8
647.7
50000
965.3
1139.7
941.3
1115.8
Qty
2 Numbering + 1 Preforation Line
1 Numbering Without Preforation Line
4c+0c
4c+4c
4c+0c
4c+4c
S$
S$
S$
S$
250
112.5
191.6
108.9
189.8
500
113.7
199.4
109.8
195.8
1000
120.4
206.4
116.8
202.8
1500
127.9
214
124.3
210.1
2000
135.5
221.2
131.6
217.6
2500
142.8
228.8
139.2
225.2
5000
180
266.1
176.4
262.2
10000
264.4
351
258.7
345.3
15000
359.6
458.2
352.4
451
20000
454.2
563.9
444.9
554.6
25000
564
693.5
551.1
680.6
50000
1029.4
1204.8
1005.4
1180.8
Qty
2 Numbering + 1 Preforation Line
1 Numbering Without Preforation Line
4c+0c
4c+4c
4c+0c
4c+4c
S$
S$
S$
S$
250
139.2
219.2
114
196.1
500
141.6
231.2
116.4
206.3
1000
151.5
241.5
126.4
216.3
1500
162.1
252
136.9
226.9
2000
172.4
262
147.2
236.8
2500
189.2
279.2
157.8
247.4
5000
255.6
345.5
210.6
300.5
10000
403.2
494
323.5
414
15000
562.5
665
447.7
550.5
20000
719.8
833.7
570.5
684.1
25000
893.5
1027.2
707.3
841
50000
1676.3
1855.6
1314.2
1493.5
100gsm Simili

128gsm ArtPaper

260gsm Artcard
Qty
2 Numbering + 1 Preforation Line
1 Numbering Without Preforation Line
4c+0c
4c+4c
4c+0c
4c+4c
S$
S$
S$
S$
250
108
192.5
105.9
190.4
500
109.2
194
107.4
191.9
1000
117.4
201.9
115.6
200.1
1500
125.2
209.8
123.4
208
2000
133.4
217.9
131.3
216.1
2500
141.3
226.1
139.5
224.3
5000
188.4
273.9
185.4
271.2
10000
304.9
413.4
300.4
408.9
15000
431.2
567.9
424
560.4
20000
537.5
688.3
528.2
679
25000
658.2
832
645.9
820
50000
1209
1477.3
1185.9
1453.9
Qty
2 Numbering + 1 Preforation Line
1 Numbering Without Preforation Line
4c+0c
4c+4c
4c+0c
4c+4c
S$
S$
S$
S$
250
108.9
194.3
107.1
192.2
500
110.7
196.1
108.9
194.3
1000
119.8
204.9
117.7
203.1
1500
128.8
214.3
127
212.2
2000
137.6
223
135.8
221.2
2500
147
232.4
145.2
230.6
5000
198.9
285.2
196.2
282.2
10000
326.5
435.6
321.7
430.8
15000
462.7
600
455.2
592.5
20000
579.5
730.9
570.5
721.6
25000
709.7
884.2
697.7
872.2
50000
1312.1
1580.7
1288.7
1557.6
Qty
2 Numbering + 1 Preforation Line
1 Numbering Without Preforation Line
4c+0c
4c+4c
4c+0c
4c+4c
S$
S$
S$
S$
250
135.9
224.3
112.8
200.9
500
140.1
228.8
116.7
205.4
1000
153.9
242.4
130.6
219
1500
167.8
256.2
144.4
232.9
2000
181.7
270.4
158.3
247
2500
202.1
290.9
172.1
260.9
5000
293
382.7
249.3
338.6
10000
503
615.1
424.2
536.3
15000
722
862.6
607.2
748.1
20000
920.6
1075.3
771.3
926
25000
1133.6
1311.3
948.3
1126.1
50000
2148.5
2420.7
1787.2
2059.4
Finishing Option
2 Numbering + 1 Perforation Line
1 Numbering without Perforation Line
(Loose Sheet only)
Numbering format
Sequential numbers that start at any number
you require (4 digits min. 6 digits max.)
Number in red colour.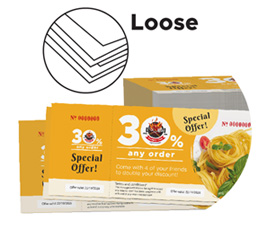 Without any binding.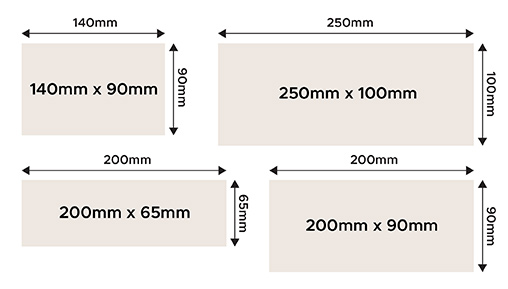 Finishing Option
2 Numbering +
1 Perforation Line
1 Numbering
Without Preforation Line

Numbering format

●Sequential numbers that start at any number
you require (4 digits min. 6 digits max.)
●Number in red colour.
Hunting line +65 6797 0828 WhatsApp +6012 925 6409

Refer www.e-print.sg for the updated price. In case there is any price confilict between the printed catalog and
the website version shall prevail.